With its daily case count beginning to rise again, Delhi has regained the number one position amongst cities with the maximum number of coronavirus cases in the country.
On Thursday, Delhi recorded almost 3,500 new cases to take its total number of infected people so far 3.21 lakh. In the process, it overtook Pune, which had been carrying the maximum burden of infected people for the last one and half months.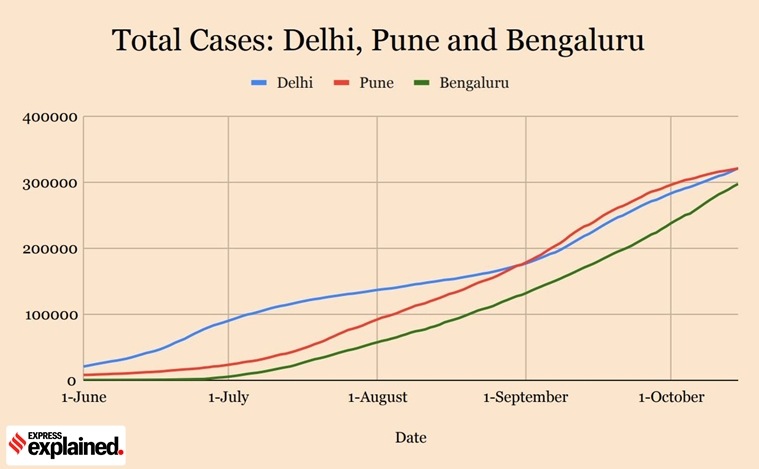 Coronavirus news: Delhi, Pune, Bengaluru Covid-19 graphs
After reporting more than 5,000 cases a day on a few occasions in late August and early September, Pune has seen its daily numbers come down steadily in the last on month. For the last three days, it has been reporting less than 1,500 new cases a day.
Meanwhile, Bengaluru has been growing at a very fast rate in the last two weeks. On three occasions during this period, the city reported more than 5,000 cases in a day. Delhi has never crossed even 4,500 mark. Bengaluru has been driving the rise of Karnataka which is the second fastest growing state in the country right now, after Kerala. On several occasions in the last three weeks, Karnataka has reported more than 10,000 cases a day.
With more than 2.97 lakh cases, Bengaluru is all set to hit the three-lakh figure on Friday. On Thursday, it reported almost 3,800 cases while a day before that more than 4,500 new cases were found in the city. At this rate, Bengaluru has the potential to even overtake Pune and Delhi in a couple of weeks. It has been steadily closing the gap with these two cities in the last couple of weeks.